Commercial Sewer Repairs: Rapid Repair Professionals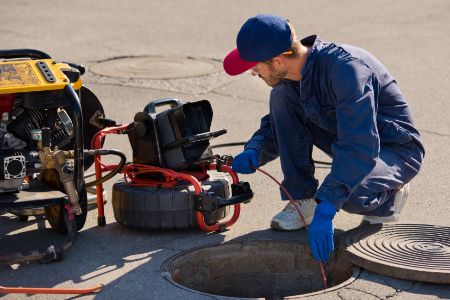 Whether you need help clearing clogged drains, minor repairs for your sewer lines, or foundation excavation to access crumbling or broken pipes, Monroe Septic LLC offers a variety of commercial sewer repairs to meet the needs of your Monroe area business or commercial property. If you need commercial sewer repairs or septic repair in Monroe, Shelton, or the neighboring Fairfield County communities, don't wait - call Monroe Septic LLC today.
To request a free quote or to find out more about our commercial sewer repair services, give the pros at Monroe Septic LLC a call today.
Fixing Commercial Sewer Lines
Maintaining intact commercial sewer lines is essential to maintaining a healthy commercial property. The commercial sewer repair pros at Monroe Septic LLC have the equipment and the expertise to tackle your most challenging issues. Whether you need minor commercial sewer repairs or major foundation excavation and sewer line replacement for commercial septic systems, our knowledgeable professionals have you covered.
No commercial plumbing system is perfect, and having a go-to professional to call on for commercial sewer repairs can make all the difference when it comes to keeping your system in good working order. Our skilled specialists have experience with complex commercial septic systems and can provide you with the quality results you're looking for at fair and affordable prices.
Expert Commercial Sewer Repairs For Monroe Area Businesses
Monroe Septic LLC has provided quality commercial sewer repairs and septic installations in Monroe, Shelton, and the surrounding areas for over two decades. We're proud to serve a growing number of commercial properties in the Monroe area, including:
Hotels & motels
Apartment complexes
Office buildings
Churches, daycares & schools
Stores & shopping centers
Industrial facilities
At Monroe Septic LLC, we have experience with large-scale commercial septic systems and making sewer repairs for a variety of businesses and commercial properties. If you're looking for an experienced professional to help maintain the health and safety of your business or commercial property in the Monroe area, call Monroe Septic LLC today to request a free quote.
Common Signs Of Commercial Sewer Problems
How do you know it's time to call a commercial sewer repair specialist? There are a few common signs to watch for:
A significant or sustained decrease in water pressure
Higher-than-usual water bills
Discolored water
Backup in commodes and drains
Damaged pipes
Unpleasant odors
Water damage
Strange gurgling noises
Pooling, puddling, or spongy soil near septic tank
If you notice any of these issues, don't wait. Call a professional to make prompt commercial sewer repairs before they become more costly issues for your Monroe area business or commercial property.
Don't Wait!
Contact

Monroe Septic LLC

if You Live in Shelton and Surrounding Areas