Westport's Leading Septic Repairs Service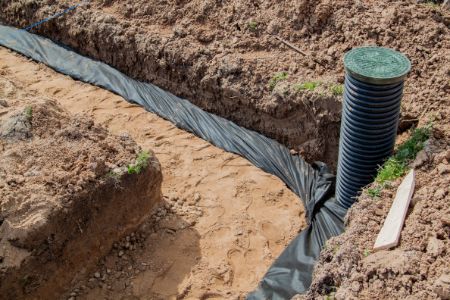 For over 20 years, Monroe Septic LLC has been Westport's resource for quality septic repairs and septic tank replacement services. We offer fair pricing and honest service to ensure that your water waste disposal systems are in good working order, and there's no job our skilled septic repairs specialists can't handle.
Residential Septic System Services
Commercial Septic System Services
Septic System Repairs
Septic System Installation
Septic Tank Repairs
Septic Tank Replacement
Sewer Line Repair
Sewer Line Replacement
Water Waste Disposal Systems
Foundation Excavation
Parking Lot Drains
Sewer Repairs
To request a free quote for septic services or septic repair in Westport, call Monroe Septic LLC today!
Avoiding Septic Tank Repairs For Your Westport Property
While you can't always avoid septic tank repairs for your Westport property, there are a few things that you can do to reduce the frequency of needed repairs. A few good practices to follow for your home or business include:
Only flush toilet paper - tissues, sanitary products, and even those "flushable" wipes can clog your system
Don't pour grease down the drain - even if it's hot, grease is one of the worst things for our septic tank
Avoid chemical drain cleaners - they're terrible for your pipes and can corrode your plumbing
Don't flush cat litter - cat litter can clog and damage your plumbing
Perform routine tank pumping and maintenance to ensure your system works properly
Never park cars, trucks, or heavy equipment on top of your septic tank - heavy vehicles can crush your septic tank
Avoid planting trees or shrubs in your drain field - their roots can damage y our system
Even the best-maintained septic systems require septic repairs. If you need a septic repairs professional for your home, business, or commercial property in the Westport area, call Monroe Septic LLC today at 203-268-7115 to request a free quote.
Your Trusted Septic Tank Replacement Professional In Westport
Monroe Septic LLC provides high-quality, affordably-priced residential and commercial septic tank services for the Westport area to meet your needs and fit your budget. We install top-rated septic systems manufactured by brands you trust. Our septic tank replacement specialists have the equipment, experience, and expertise to tackle your residential or commercial project, no matter how large or small.
To request a free quote for septic tank replacement, septic system design, or septic tank installation services in the Westport area, give us a call at 203-268-7115.
About Westport, CT
It's no secret to our friends and neighbors that Westport is a great place to live. Our strong sense of community, cultural diversity, and small-town New England charm are all reflected in our art galleries, indoor and outdoor performing arts venues, and our thriving shopping and dining areas. As the town with the most ocean and river waterfront in Connecticut, Westport offers ample opportunities for scenic walks along sandy beaches, and maintaining the health of our environment and waterways is a top priority for our residents.
For help maintaining a safe and healthy septic system for your Westport area home or business, the pros at Monroe Septic LLC have you covered. If you need septic repairs or septic tank replacement services, don't wait! Call Monroe Septic LLC today!
Don't Wait!
Contact

Monroe Septic LLC

if You Live in Shelton and Surrounding Areas