Sewer Line Replacement To Restore Compromised Sewer Systems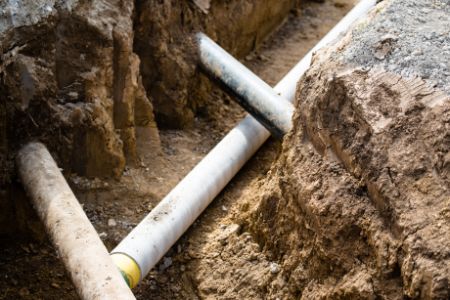 When your Monroe property's sewer lines are damaged beyond repair, the pros at Monroe Septic LLC offer expert sewer line replacement services to restore the function to your residential septic system or sewer system. We have the tools and the expertise to handle any project - from minor sewer line repairs to foundation excavation and sewer line replacement.
A compromised sewer system isn't just a nuisance. Damaged sewer lines can threaten the health and safety of your family and cause extensive damage to your property; if you suspect that your sewer lines need to be replaced, don't wait. Call a sewer line replacement professional today to protect your Monroe property.
At Monroe Septic LLC, we have over two decades of experience providing quality sewer and septic repairs for Monroe and the neighboring areas. If you're looking for honest service at affordable prices, Monroe Septic LLC has you covered.
Trenching New Sewer Lines
When it comes to trenching new sewer lines for your Monroe home or business, you can trust the sewer line replacement pros at Monroe Septic LLC to get the job done right. At Monroe Septic LLC, we've got the equipment, experience, and expertise to tackle your toughest project and quickly restore comfort to your property.
Sewer line location
Utility line location
Excavating
Trenching & under-slab tunneling
Obstruction & root removal
Sewer line repair
Sewer line replacement
Septic repairs
Trenching a sewer line is not an easy task, and it's best left to a professional who understands codes and regulations for sewer line replacement in the Monroe area. If you suspect that you need to replace your sewer lines, don't wait until it's too late! Call the pros at Monroe Septic LLC today at 203-268-7115.
Signs You Need Sewer Line Replacement
How do you know if you need sewer line replacement for your Monroe property? There are a few signs to alert you to the need to contact a professional for residential or commercial sewer repairs or sewer line replacement.
Higher than normal water bills
Gurgling noises coming from your pipes
Multiple slow drains and system backups
Soggy sod, puddles, and foul odors in your yard
Increased presence of pests
Water pressure issues
Damaged sewer lines
If you've noticed problems with your sewer or septic system, the pros at Monroe Septic LLC can help. We have over two decades of experience in sewer line repair and sewer line replacement and offer high-quality services at affordable prices. To request a free quote in Monroe, Shelton, or the neighboring Fairfield County communities, call Monroe Septic LLC today at 203-268-7115.
Don't Wait!
Contact

Monroe Septic LLC

if You Live in Shelton and Surrounding Areas