#1 Septic Repairs Specialist Serving Stratford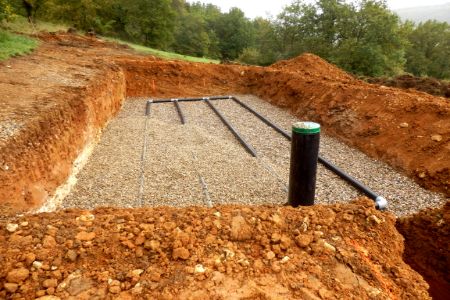 For over 20 years, Monroe Septic LLC has been the trusted septic repairs specialist serving the Stratford community. From sewer line repairs to septic tank replacement to installing a complete water waste disposal system for your home or business, there's no project our skilled specialists can't handle.
Monroe Septic LLC offers honest service and fair pricing. If you need septic repairs for your Stratford property, don't wait until it's too late - call the pros at Monroe Septic LLC today.
Head Off Frequent Stratford Septic Repairs With These Dos & Don'ts
If you've got a new septic system installation or want to get the most out of your older system, the pros at Monroe Septic LLC suggest you follow these tips to keep your system in top condition.
Do:
Perform regular system maintenance and pump your system as needed
Keep your septic tank lid sealed, secured, and easily accessible
Reduce the amount of water you use
Direct water from land and roof drains away from your drain field
Don't:
Overuse your garbage disposal or flush anything but toilet paper
Put household chemicals down the drain or use septic tank additives
Park cars, trucks, or other heavy items on your drain field or septic tank
Plant trees or shrubs with deep root systems in your drain field
Proper care of your Stratford septic system will keep your lines and tank working like they should for years to come. If you have problems with slow drains, backups, or pooling, the pros at Monroe Septic LLC are here to help.
Septic Tank Replacement & More For Stratford Properties
Keeping your Stratford septic system in top condition is easy when you leave it to the pros at Monroe Septic LLC. We offer a wide range of services to meet your needs, including:
Septic System Repairs
Septic System Installation
Septic Tank Repairs
Septic Tank Installation
Septic Tank Replacement
Sewer Line Repair
Sewer Line Replacement
Water Waste Disposal Systems
Foundation Excavation
Parking Lot Drains
Sewer Repair
To request a free quote for septic repairs in Stratford, call Monroe Septic LLC today at 203-268-7115. We're your local resource for quality septic system services in Stratford.
About Stratford, CT
With 18 miles of coastline, two public beaches, five marinas, two boat launches, numerous fishing piers, and a plethora of beautiful parks, it's easy to see why Stratford is the place our friends and neighbors love to call home. The diversity of our natural resources, rich artistic and cultural heritage, and friendly neighbors are just a few of the reasons we're known as "Connecticut's Gold Coast."
From the Roosevelt Forest to the Great Meadows Salt Marsh, we care about our environment in Stratford. If you're having issues with your septic system, prompt attention is vital to protect our waterways and soil. Call Monroe Septic LLC today to request a free quote for septic services in the Stratford area.
Don't Wait!
Contact

Monroe Septic LLC

if You Live in Shelton and Surrounding Areas